What's better for destroying the Supernatural menace than a Superscience weapon? How about a Superscience weapon paired WITH a Supercience gadget!
Gadgets are the icing on the cake. The peaches in your cream. The bosons for your anti-bosons. In this case the cake and cream are actually Science weapons and anti-bosons are… well, they're still anti-bosons.

While gadgets are not considered "offensive" during tactical sorties, they do tend to complement and improve your destructive capabilities. Take the Gravity Distorter for example. It's your typical pocket-sized, grenade-deployable black hole. "Sure, that's fine for crowd control," I hear you think, "but what if you use it for gathering crowds into a tightly-confined singularity–and also for gathering PROJECTILES into a tightly-confined singularity?"
That's right, you can use the gravitational pull to focus fire on a particular area, make snap shots more likely to connect and increase the accuracy of more wayward projectiles. Get creative! An expert can even use the Gravity Distorter for sling-shooting projectiles around corners with enough skill. Do be judicious with your Gravity Distorter though–it has a single round cool-down and its event horizon is equally welcoming of Scientists and Supernaturals.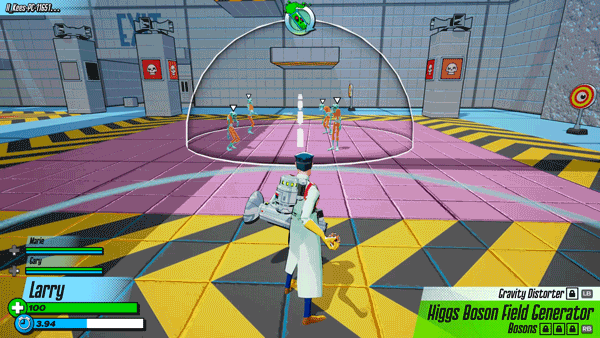 […]